October 16, 2023 4:25 pm
Leave your thoughts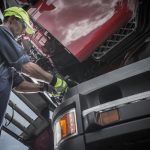 When it comes to heavy duty trucks, the need for repairs and bodywork is inevitable. Whether it's due to a collision, wear and tear, or simply an upgrade, finding the right body shop is crucial. With so many options available, it can be overwhelming to choose the right one. However, with a little research and attention to detail, you can find a body shop that is perfect for your heavy duty truck. In this blog post, we will discuss some key factors to consider when choosing the right body shop for your heavy duty truck.
1. Experience and Expertise
The first and foremost factor to consider when selecting a body shop for your heavy duty truck is the overall experience and expertise of the technicians. Heavy duty trucks have unique requirements and specifications, and it is crucial to choose a body shop that has experience working with such vehicles. Look for a body shop that has been in business for several years and has a team of skilled technicians who specialize in heavy duty truck repairs and bodywork.
2. Reputation and Reviews
Next, it is essential to consider the reputation and reviews of the body shop you are considering. Do some research online and check for customer reviews and ratings. Look for a body shop that has positive feedback and testimonials from satisfied customers. Also, consider asking for recommendations from friends, family, or colleagues who have had their heavy duty trucks repaired recently. A reputable body shop will have a track record of delivering high-quality services and customer satisfaction.
3. Facilities and Equipment
The quality of facilities and equipment available at the body shop is another crucial factor to consider. Heavy duty trucks require specific tools and equipment for repairs and bodywork. Ensure that the body shop you choose is well-equipped with modern and up-to-date tools. Additionally, check for cleanliness and organization within the facility. A well-maintained and properly equipped body shop demonstrates professionalism and attention to detail.
4. Range of Services
Consider the range of services offered by the body shop. Apart from repairs and bodywork, look for additional services that may be beneficial to your heavy duty truck. For instance, if you require customizations or aftermarket installations, find a body shop that offers these services as well. Choosing a body shop that can provide comprehensive solutions for your heavy duty truck saves you time and hassle in dealing with multiple service providers.
5. Insurance and Warranties
When selecting a body shop for your heavy duty truck, it is essential to inquire about insurance coverage and warranties. Ensure that the body shop has liability insurance to protect your vehicle during the repair process. Additionally, ask about any warranties provided for the repairs and replacements done on your truck. A reputable body shop will stand behind their work and offer warranties on their services and parts.
6. Cost and Estimates
While price should not be the sole determining factor, it is essential to consider the cost and estimates provided by different body shops. Obtain quotes from multiple shops and compare them to ensure you are getting a fair and competitive price. However, be cautious of extremely low prices, as they may indicate subpar quality of work. Remember, quality repairs are an investment that will ensure the longevity and performance of your heavy duty truck.
Conclusion
Choosing the right body shop for your heavy duty truck requires careful consideration and research. Focus on finding a body shop with experience and expertise in handling heavy duty trucks, a solid reputation, state-of-the-art facilities and equipment, a wide range of services, proper insurance and warranties, and competitive pricing. By taking these factors into account, you can make an informed decision and ensure that your heavy duty truck receives the best possible care and repairs.
Got Questions? Let Us Help!
United Diesel Power is an independently owned business servicing customers in Memphis, Tennessee, since 2015. We have more than 28 years of experience in the automotive repair industry, with a specialized focus on bus repair, truck and trailer repair, and RV vehicles. The Better Business Bureau accredits United Diesel Power. We are the company everyone knows they can trust to help you get back on your wheels! Our services are available 24/7, so you will always be covered! We know that accidents happen, so we want you to be able to have the assistance you need at the time that you need it. Contact us today to learn more about what we can do for you!
Categorised in: Blog, Truck Maintenance
This post was written by admin